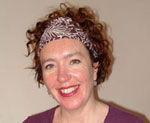 About the Therapist
Jojo Norris IIHHT MICHT APNT
Jojo Norris is a busy and well established massage therapist in Leamington Spa.
Formerly in horticulture for 22 years, in 2002 she had a career change and trained as a masseuse. She quickly became a very popular massage therapist, well known for sorting out people's aches and pains.
With many pregnant clients, she decided to also specialise in Pregnancy and Postnatal massage. She is the most established Pregnancy Massage therapist in the area (having seen many clients through 3 pregnancies and postnatal recovery) and is a founding member of the Pregnancy and Birth Network.
Realising that many of her clients' problems are due to poor posture and structural distortions she also expanded her repertoire to include, Ishta Spinal Touch and Dorn Method and NST (Bowen).
Jojo is very interested, and has a good knowledge of, a wide range of complementary therapies. As part of a wide network of excellent therapists, be assured she will always refer if she feels another therapy will be beneficial.
Last but not least, many of her clients also value her horticultural advice gained from her years at Kew and Ryton Organic Gardens.

Tel: 07981 196371
Email: jojo@jojotherapy.com.......
....................................................